Ready Activation Tool, Schematics & TopUp Credits
INFORMASI LEBIH LANJUT
https://wa.me/6282344486333 ATAU INBOX FB KAKA
IDM (internet download manager)
WINDOWS 10 KEY ORIGINAL
Unlock Tool
Oppo Realme Master Tool
TFM Tool Pro
DFT Pro Tool (DFT)
MobileSea Tool (MST)
EME Mobile Tool (EME)
Borneo Schematics 1pc/laptop , 2 pc/laptop
Pragmafix Schematics
Zilion X Work (ZXW) Schematics
DZKJ Schematics 1 THN , 3 THN
Wuxinji Schematics
Xinxhizao Schematics 1pc/laptop , 3pc/laptop
SamHub
Magma
Chetah Tool Samsung
Chetah Tool Lg
Chimera Tool Samsung
Chimera Tool Full Android
UFi Credits Package
Global Unlocker
KingsTool (King Unlock)
SamDoc/ToolX FRP For Samsung
Radix Tool FRP For Samsung
REMOT FRP VIVO , REMOT FLASHING REALME
FIRMWARE VAVA,I-CHERRY
MASUK SUPPORT DOWNLOAD HALABTECH ,EASY FIRMWARE , DLL
PERBAIKAN IMEI ,MALAYSIA DAN NEGARA LAIN NYA
DAN MASIH BANYAK LAIN NYA , INBOX SAJA KAKA ...
INFORMASI LEBIH LANJUT
https://wa.me/6282344486333
ATAU INBOX FB KAKA
Infinity Chinese Miracle-2 MTK/MediaTek v2.23 - New models and features
---
Infinity Chinese Miracle-2 MTK/MediaTek v2.23 - New models and features
As ordinary, unique functions and methods released
Core
Changed: Protocol updated ( Raphael/Legacy )
NewSOC:
ChipConfig for MT6833 activated ( under test )
Changed: BootHelper updated
Changed: Fixed SW reaction to conenction/power issues ( lags/stuck removed )
Changed: META core updated
! Allow connect from now to device, which already in META mode
! Identify by default not reboot device, other operations - reboot
Changed: Fixed Preloader mode handling on some driver versions
Changed: Fixed META init on some devices
Changed: SLA: Development feature to generate and send error reports automatically for unsupported devices
! No any data will be sent without user request
Flasher
Changed: UltraFlash engine updated
MemoryTool
Feature:
Activated "Init GPT/PMT with resize" option
! Allow in some cases fix: Stuck/freeze/Rebooting issues on cheap encryption-enabled devices with cheap memory installed
! Issue found on MiPlay, some Infinix and other devices ( should work on more models range )
! Feature work by decrease UserData space size to avoid "bad blocks"
Service
Changed: SmartReset updated
Changed: SmartReset Extra mode updated
! SmartReset Extra acts like ordinary ones, but make additional, brand-required operations :
- Reset MiAcc for XIAOMI ( non-permanent )
- Reset FlyMe acc for MEIZU
- Reset DEMO mode on VIVO devices ( under test )
! Other, vendor-specific scripts can be included by users requests
Changed: "Restore Backup" option updated
! Clean and prepare files for correct restore in secure devices revised
Firmware Reader
Changed: New types supported
Changed: Internal Database updated
Other
Changed: Some general changes and fixes
Changed: Connection mode fixes
Download link #1
Download link #2
Download link #3
How to
upload files to support
Infinity-Box as nobody else since year 2005
What is it:
Professional people know a lot about damaged and semi-damaged flash chip. In most case the onlybway to repair phones with semi-damaged flash chip is SOLDERING.
Not so many people ready to make this work.
But now you can try to fix phone with semi-damaged flash chip WITHOUT SOLDERING!
The idea is: set limit for flash chip space usage. So f.e. if your phone has 16Gb flash and part of it is damaged you can set a limit and use only 10Gb instead of 16Gb.
In this case phone will have less memory but phone WORKS!
During last days it was done many tests and result is: 6 out of 11 completely dead phones become alive WITHOUT SOLDERING!
Yes yes, I know, you are very smart and you may say "and what?" The amswer is: make your phone alive without soldering and see result after some time!
HowTo :
1. Init MemoryTool
2. By clicking right mouse button, select in context menu Extra -> Init GPT/PMT with resize
3. Select scatter for your device ( you always can read it from this device )
4. In new menu, by moving track, select desizer user size. Left - decrease, right - increase.
5.1 In order of TEST try recommend set left corner with smaller User Size.
5.2 In case of success test - operation can be repeated with bigger value.
6. Close MemoryTool. Make SmartReset to accept changes.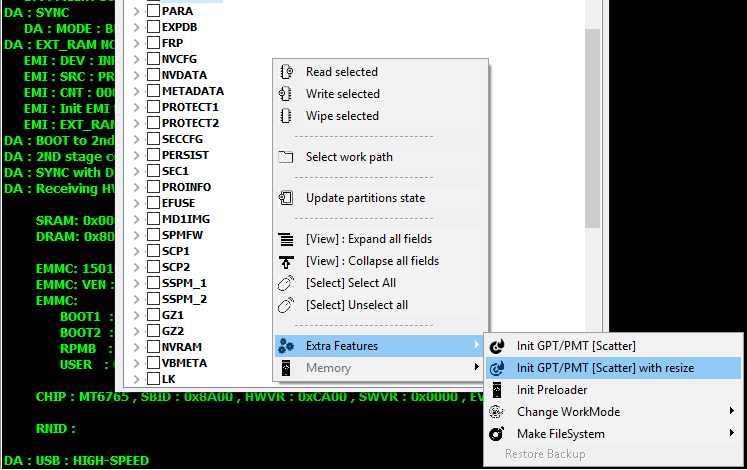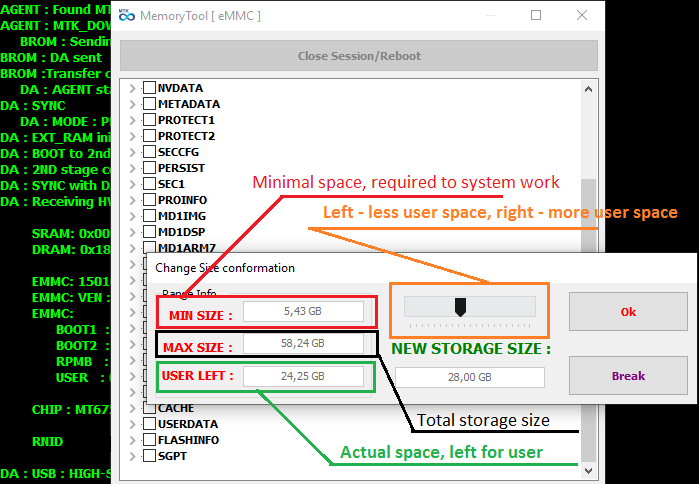 ---